Music Compilation
Six different NY based musicians created music based on the show thesis, expressing their take on the show thesis through sound and lyrics. You can find the entire compilation on the official Locker Room playlist, "New Year, New York".

Tracklist
1. Sylvan Paul - "Can't You Feel It"
2. Brother Graham - "Double Down"
3. Ranger David - "Sensory"
4. Tony or Tony - "Marzipan"
5. Duefunk - "I Can't Help but Listen"
6. Spencer Zahn - "Key Bizcayne"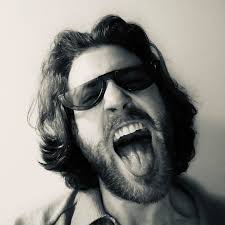 Sylvan Paul
Sylvan Paul blurs the lines between electronic music and rock'n'roll. Powered by a distinct baritone vocal, he brings something to electronic music that it so often lacks: attitude. Drawing on various rock palettes such as classic, post-punk, and grunge, he weaves traditional recording techniques with electronic production to create idiosyncratic compositions, where the border between organic and synthetic becomes murky, but also unimportant.

Brother Graham
Brother Graham is a 28 year-old New York native that explores photography, music and mixed media arts as a way to express his experiences in the New York art & music scene. For the past decade, he has curated art & music experiences in and around New York with a fascination around creating community rooted in a certain feeling, inspired by the characters that he comes across.



Ranger David
A mystery to most. A legend to some. New York based electronic music from the spaceship on the fifth floor.


Tony or Tony
TONY OR TONY OR TONY OR TONY OR TONY OR TONY OR TONY OR TONY OR TONY OR TONY OR TONY OR TONY OR TONY OR TONY OR TONY OR TONY OR TONY OR TONY OR TONY OR TONY OR TONY OR
Duefunk
Musical group that combines elements of psychedelic funk, rock, pop & hip hop into their recordings & live experience. They are influenced by the sounds of Jimi Hendrix, P-Funk, Outkast, Prince, Moodymann & J Dilla amongst many others. The DUEFUNK project was started in 2014 by William Dufault as solo project in Upstate NY. After moving to New York City and gigging, William met drummer and co-producer Niko Koloseus through a chance encounter and began developing a musical style that blends sounds of the past with production techniques of the future. Duefunk steadily evolved into a Duo and in 2019, bass & keys player Jasper Crace joined the live rendition.


Spencer Zahn & Hana Tajima (Key Bizcayne)
Spencer Zahn is a multi-instrumentalist and composer based in New York. His music is marked by spacious sonic landscapes, rich with contributions from his creative community. A renowned collaborator and touring bassist for artists like Empress Of, Twin Shadow, Dave Harrington, Kimbra and Half Waif, Spencer's solo material fuses his jazz upbringing with the more experimental paradigms of pop music. Combining lush electronics with delicate organic textures, Spencer's instrumental arrangements undulate along waves of jazz, ambient pop, Americana, and neo-classical.

Hana Tajima is a British-born clothing designer and visual artist. She recently collaborated on a series of three sculptural video pieces for Spencer Zahn's album, 'Sunday Painter'. Each creates a unique visual landscape that represent the organic, improvisational nature of the songs.